Founded by original designer Ernst Benz in the 1980s, Benz-Micro earned recognition throughout the world as one the top cartridge manufacturing companies. In 1994 Albert Lukaschek took over under the leadership of Albert Lukaschek. 20 years later, Benz-Micro announced their focus on the upper end Swiss hand-made phono cartridges. 
Benz Micro's current production team represents the best of the best for producing state-of-the-art phono cartridges.
Gold and Silver
MC GOLD AND MC SILVER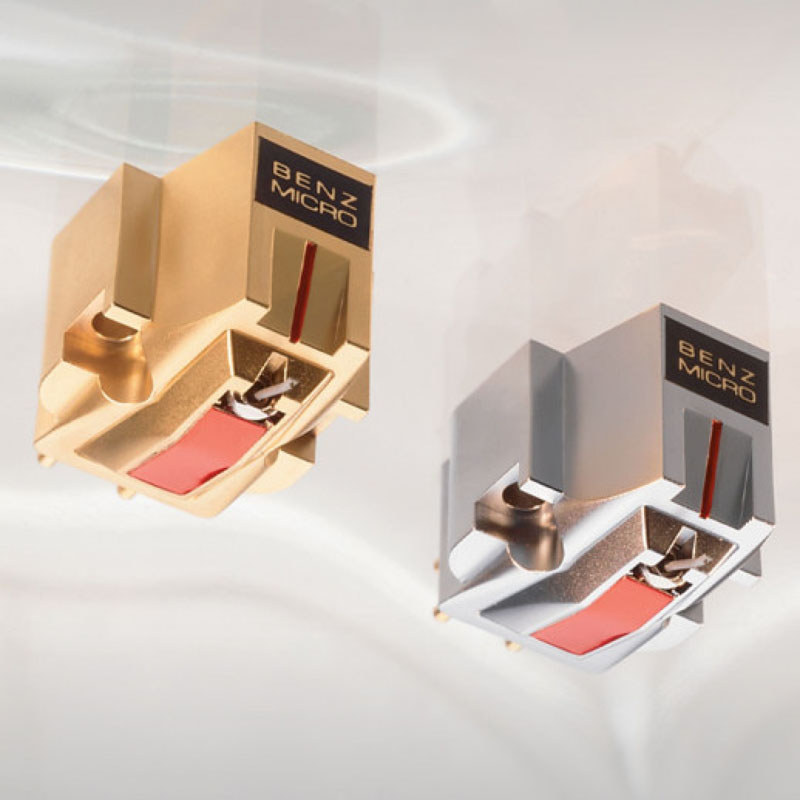 Features
• Output Voltage: 2.0 mV (Silver), 0.4mV (Gold)
• Stylus Shape: Elliptical Diamond
• Stylus: 0.3 x 0.7mil
• Impedance: 20 ohms (Gold), 120 ohms (Silver),
• Loading range: >200 ohms (Gold), 47K Ohms (Silver)
• Weight: 5.7 grams for both
• Compliance: 15cu for both
• Tracking: 1.7-2 grams
ACE
Glider
Wood
Reference
Ruby
Gullwing SLR
Ebony
LP
Products and specifications subject to change without notice.
Search for your nearest dealer
Online Reviews:
» tonepublications.com – Benz Micro Ruby Z Cartridge
» hi-fiworld.co.uk – Benz Micro Ace SL
» 10audio.com – LP-S and Gullwing SLR Cartridges, August 2013
» hifinews.co.uk – Benz Micro ACE SH, June 2013
» positive-feedback.com – Benz Micro – ACE H Cartridge
» hifizine.com – Benz Micro – Glider SL Cartridge, March 2011
» Hi-Fi World on normanaudio.com – Benz Micro – Wood SL Cartridge, December 2010
» avguide.com – Benz Micro ACE L MC Cartridge, Sep 2008
» dagogo.com – Benz Micro Ebony TR, June 2008
» Stereophile – Paul Bolin – Benz Micro L2 Wood Body Phono, Cartridge July 2003
---
Printed Reviews – not available online
The Absolute Sound 2011 High-End Audio Buyer's Guide 
Benz Micro Glider SM
Benz Micro Gullwing SLR
Benz Micro LP S
The Absolute Sound "The 30 Greatest Bargains in High-End Audio"
Benz Micro Glider SM Cartridge
The Absolute Sound High-End Buyer's Guide (Spring 2010)
Benz Micro Glider SM
Stereophile Recommended Components (October 2010)
Benz Micro LP-S
The Absolute Sound Editor's Choice Awards 2010 (March 2010)
Benz Micro ACE S
Benz Glider SM
Benz Micro Ebony L
2009 Absolute Sound Product of the Year (January 2010)
Benz Micro Glider SM
The Absolute Sound (October 2010)
Benz Micro SLR Gullwing
The Absolute Sound (October 2010)
Benz Micro LP S-MR
The Absolute Sound High-End Buyer's Guide (November 2009)
Benz Micro Glider SM
Stereophile Recommended Components (October 2009)
Benz Micro ACE SL
Benz Micro MC-20E2-L
The Absolute Sound Editors' Choice Awards 2009 (September 2009)
Benz Micro ACE S Class
Benz Micro Glider S Class
Benz Micro Ebony L
Stereophile Recommended Components (April 2009)
Benz-Micro MC-20e2-L
The Absolute Sound Top Picks 2009 (March 2009)
Benz-Micro Glider S
HiFi News (August 2009)
Benz Micro LP S-Class
Bound for Sound #194 (July 2009)
Benz Micro Glider SM
Stereophile (June 2009)
Benz-Micro ACE-SL
Absolute Sound (March 2009)
Benz-Micro Glider S (M)
The Absolute Sound 2008 Editors Choice Awards:
Benz-Micro ACE Cartridge
Benz-Micro Ebony L
Stereophile Recomended Components 2008
Benz-Micro MC20E2-L Cartridge (C)
AV Guide – (Oct 2008)
Benz Micro Ebony L MC Cartridge
Benz-Micro Ebony H — The Absolute Sound – Jim Hannon – (March 2008)
---
OLDER REVIEWS
The Absolute Sound 2007 Editors' Choice Awards 2007
Benz Lukaschek PP-1 (Phono stages, under $2000)
Benz Micro ACE (Cartridges, $500 – $1000)
Benz-Micro Ebony L (Cartridges, $2000 and up)
» Benz-Micro MC20E2 L and Ebony L Cartridges — The Stereo Times – Frank Alles (Sep 2007)
Benz Ebony L — The Absolute Sound – Paul Seydor – (June 2007)
» Benz-Micro MC20E2-L — Stereophile — Art Dudley – ( Sept 2007)
» Benz-Micro Ebony L — www.dagogo.com – Jack Roberts (Sep 2007)
» Benz-Micro ACE L — www.dagogo.com – Bill Epstein – (Dec 2007)
The Absolute Sound 2006 Editors' Choice Awards – 2006
Benz Lukaschek PP-1 (Phono stages, under $2000)
Benz Micro ACE (Cartridges, $500 – $1000)
Benz Micro Ruby 3 (Cartridges, $2000 and up)
The Absolute Sound – HP's Workshop (January 2006)
Benz Micro LP Phono Cartridge
The Absolute Sound Editors' Choice Awards (December 2005)
Benz Lukaschek PP1 T-9 Phono Stage
Benz Micro ACE Phono Cartridge
Benz Ruby 2 Phono Cartridge
The Absolute Sound – Chris Martin (August 2005)
Benz Micro ACE Low Output Phono Cartridge
Stereo Times – Dave Thomas
Benz Micro ACE Low Output Phono Cartridge
Stereophile Recommended Components (June 2004)
Benz Micro ACE Mono Phono Cartridge — Art Dudley –
Stereophile Recommended Components (November 2003)
Benz-Micro L2 Wood Body cartridge – Paul Bolin
AudioAsylum.com – J. P. Matt (April 2003)
Benz Micro ACE Phono Cartridge
Stereophile Recommended Components – 2002
Benz-Micro Glider Series 2
Stereophile (March  2002)
Benz Glider Series 2
EnjoytheMusic.com – Neil Walker  (September 2001)
Benz Micro L2 Wood Body Phono Cartridge
HiFi News and Record Review  (July '98)
Benz Glider